If you have been following along so far, I'm sure you will agree that last season's run-in was rather remarkable, from a team that looked dead and buried by the end of March, we battled through admirably to guarantee our Bundesliga survival, though it would take to the final day for our safety to be assured.
You can read all about it if you haven't already done so here –  FM19 Kaiserslautern – Season 4 Part 2 – Relegation Battle
With our safety in the top flight confirmed it brought with it some real financial stability with the increased revenue generated from TV money we were able to start work on upgrades to both our adult and youth training facilities, as well as improve our junior recruitment and coaching levels. On top of this, we were given £140k per week in extra wage budget to go along with £8m to spend in the window. So it was time to see if we could turn our squad from relegation fodder into something a little more.
Transfers

I said in my previous post that there were some key areas of the squad I would like to address and I moved quickly to do so.
First signing through the door was French ball playing defender Boubacar Kamara, who joins the club after his contract with Marseille expired.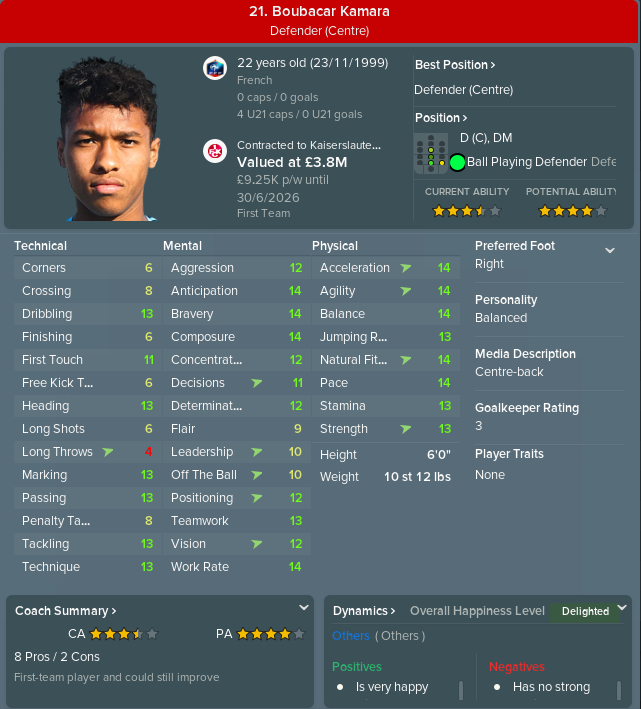 Having youth on his side at the age of 22, and being an improvement on what was already at the club, it was a no-brainer to bring him in for only £9k per week, I expect him to play mostly at centre back but also to cover as a defensive midfielder when necessary.
Also joining on the first day of the window is Mikael Noro Ingebrigtsen for a very reasonable £550k from Tromso, he was perhaps my number one target of the window, as he was initially my first choice last year but finances would dictate that I could not make the deal, before moving on to Tavares from Benfica, who turned out to be a bit of a bust.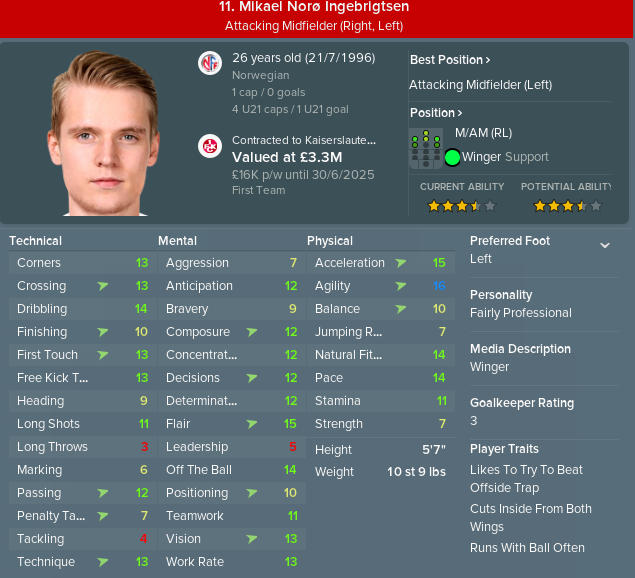 Like his fellow countryman Jens Petter Hauge on our right flank I expect big things, as well as a Nationality, they also both share the trait of cutting in from the wings and I expect this to add another attacking dimension for us as we move into the new season.
My next signing, I'll be honest here, I went a bit crazy with. He ticked so many boxes for me I just couldn't resist spending most of my transfer budget on him.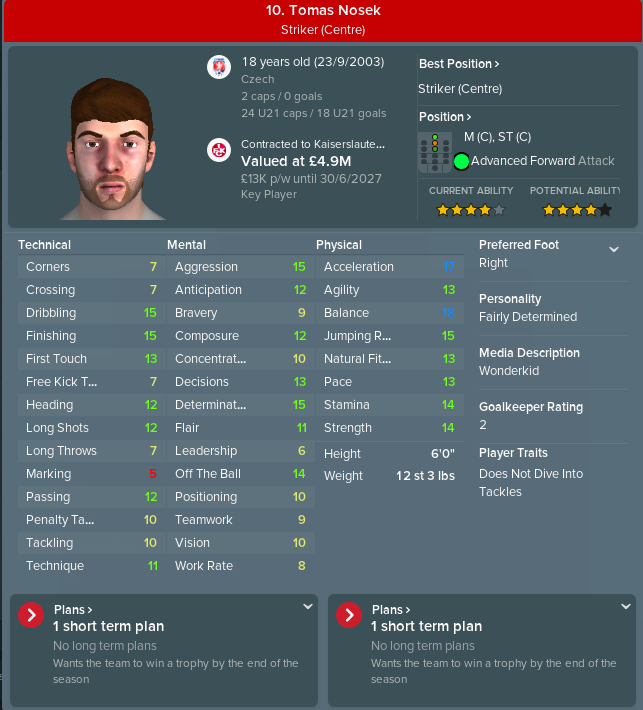 Fast, Strong, Good in the air, Good Movement, Aggressive, Determined, and a very good finisher. All of this whilst being only 18 years of age. I just had to try and see if I could make a deal to bring him to the Fritz-Walter-Stadion. He joins for a £3 million initial fee as well as another £3 million over 3 years. And to be honest I think that's still a pretty good deal.
With agents adding demands for very low minimum fee release clauses in this year's edition of Football Manager I knew I was onto a winner when Nosek's agent was demanding that I allow his client to speak to other clubs if they were willing to part with £58 million. I'm a wee bit excited about this boy if I'm honest.
Next in the door was Lucky Okoro, another left-winger, joining us on a free transfer from Nigerian side FC Ebedei, this is a signing I can purely put down to the success of my scouting operation. With Ingebrigtsen already in and Joss Nkongue as a backup, truth be told I was pretty happy with my options on the left, but I got the scouting notification through my inbox to tell me that this guy was available for free.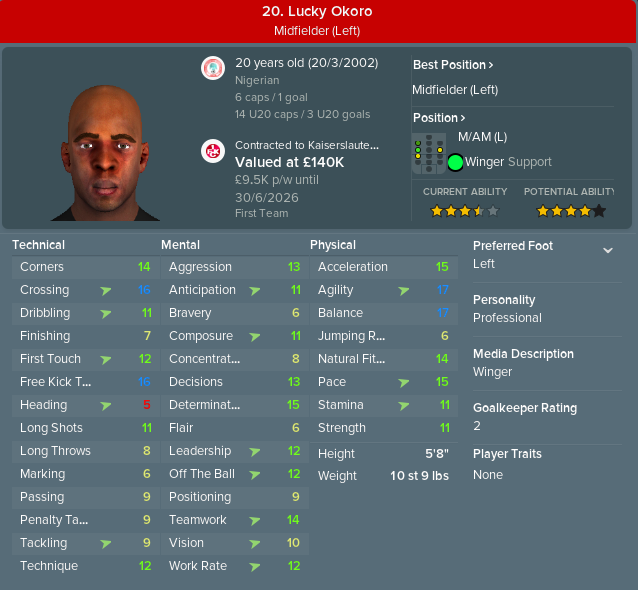 An absolute no-brainer, he will provide fantastic competition down the left-hand side and I was delighted to add him to the squad.
Another massive area for me to improve upon was left back. I mentioned last time that despite Janek Sternberg somehow winning the Fans POTY award, he really appeared to be a weak link when I looked into the stats at the end of last season. This was an area I scouted in quite extensively and had a list of targets that I thought would come in and do a job in the position. We had to be patient though, and work systematically down the list as players would either not want to come to us, demand too much in signing on fees, I'm looking at you Raoul Petretta, or we would lose out to other teams.
In the end, we made a move for Marco Friedl from FC Ingolstadt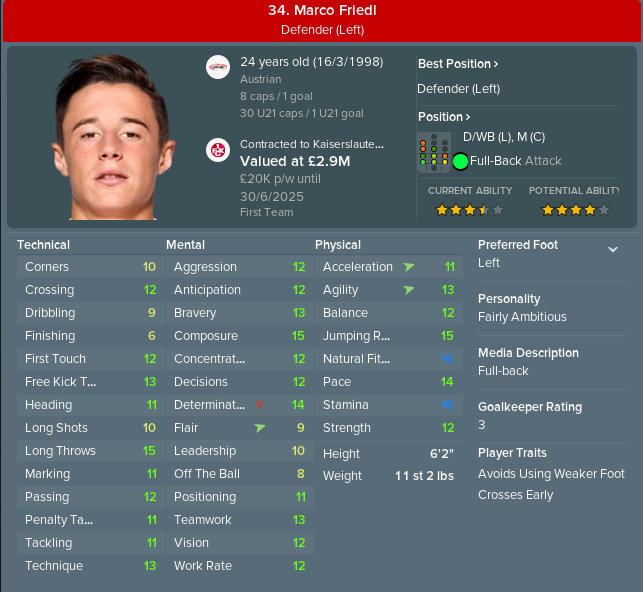 Long term I don't think he is the answer, but he is a full international and still an improvement on Sternberg, so will do the job just nicely for now.
I would also look to strengthen my creative midfield options in the middle of the park, with Jessy Pi not really cutting it and Filip Ugrinic returning to Schalke after his loan ended, it was an area where we needed to add some strength in depth to compete for places with Kamer Qaka and Mario Biada. And in doing so we would look to Colombia and to England.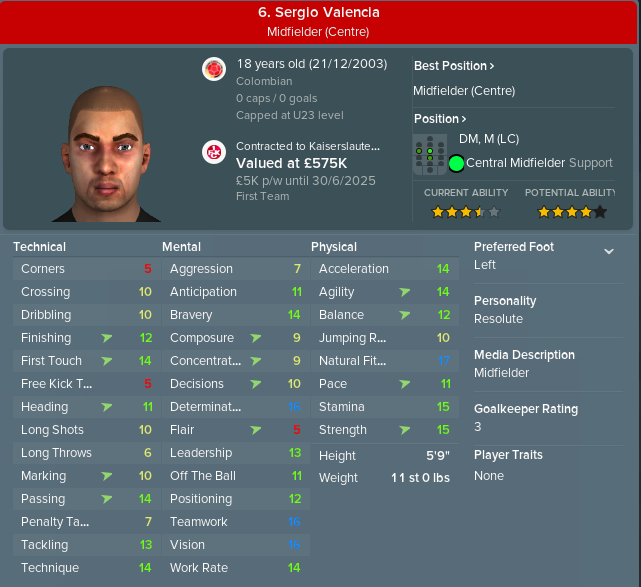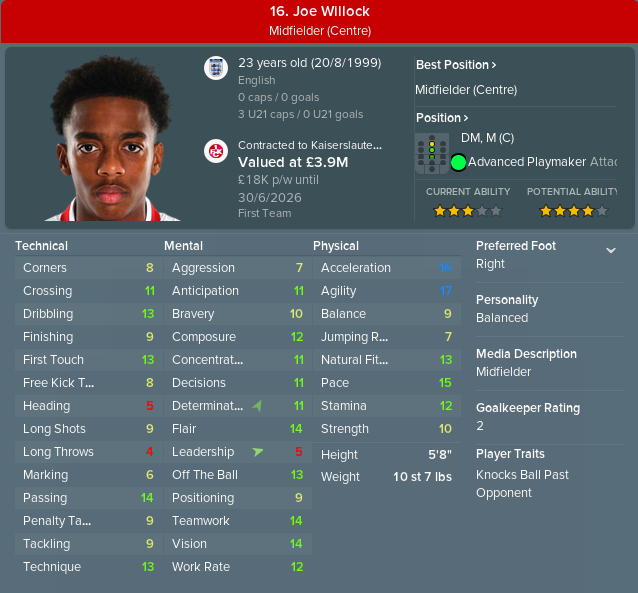 Both provide good options and I am happy with how things look in the middle of the park as we move into the new season.
Tactics.
With a big influx of better quality being added to the playing staff I had to have a think about how to lineup the team this year to maximise the squad's strengths. I still feel we are lacking in some areas, whilst improving our defence it is still some ways away from being able to deal with the attacking threats that some of the better teams in the league such as Dortmund, Bayern and RBL carry. On the positive side though I feel my own attacking three poses a great threat themselves and I imagine we can be really deadly going forward.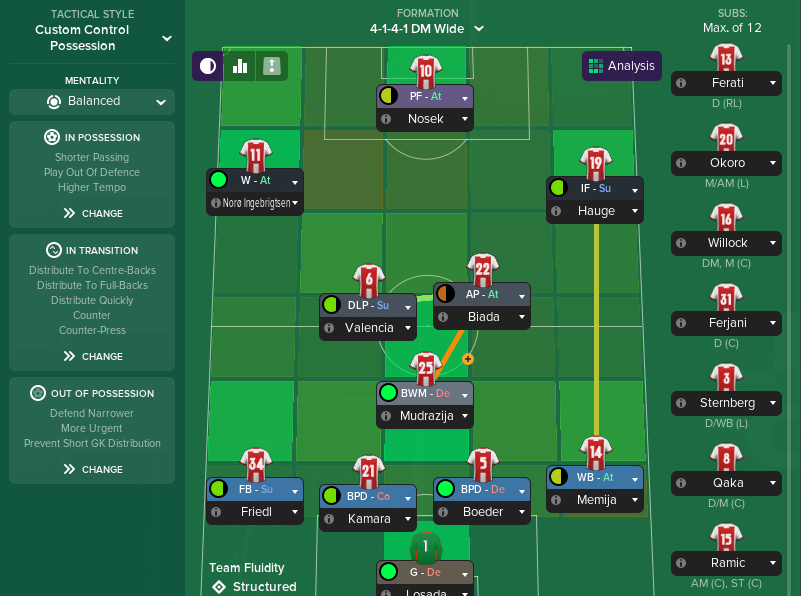 I have decided to go with the following for the season ahead. I won't cover everything but a few key points about what I'm trying to achieve.
Balanced Mentality – I went with balanced as I feel we are not strong enough defensively to absorb continued pressure from the opposition by playing cautiously and whilst we had the makings of being good going forward I did not want to commit the team forward too much. Balanced seems about right as it's a good mix of risk and pragmatism.
Counter-Press and Higher pressing – Again I recognise that my defence is not where we are strongest and wanted to work hard to win the ball back in midfield early to allow my front 3 to create problems with their movement high up the park.
Play out of Defense – As a passing team we are pretty strong, our centre backs are good on the ball and our midfield three has bags of creativity and passing ability. I am confident that if we don't win the ball in the initial press we can bring the ball forward in a controlled way from the back.
It's now a case of waiting to see if my vision actually translates to results on the pitch.
August

We would begin like a house on fire.
First up this year was Greuther Furth. Despite them finishing one place above us in the league in each of the last two seasons, denying us a 2.Bundesliga Title in the process, we had a pretty good record against them. Winning 3 of 4 games against them so far.
It was a nervy affair with both teams looking dangerous in attack and we would initially go 1 down. Before goals from Mario Biada, either side of new boy Tomas Nosek's brace would ensure we got our league campaign off to success.
Next up would be an away trip to newly promoted Freiburg and it was the same names again popping up on the score sheet. Tomas Nosek giving us the lead before an entirely deserved Biada winner gave us all three points.
Lower league Lippstadt would await in the cup,  and we would rotate heavily to allow some of our fringe players some game time. It was the routine victory as expected with the Ram once again amongst the goals carrying on from last season, he must feel hard done by, but there is no way I could pass up someone of Nosek's ability.
We would return to league action against Mainz and it was to be a real nail-biter.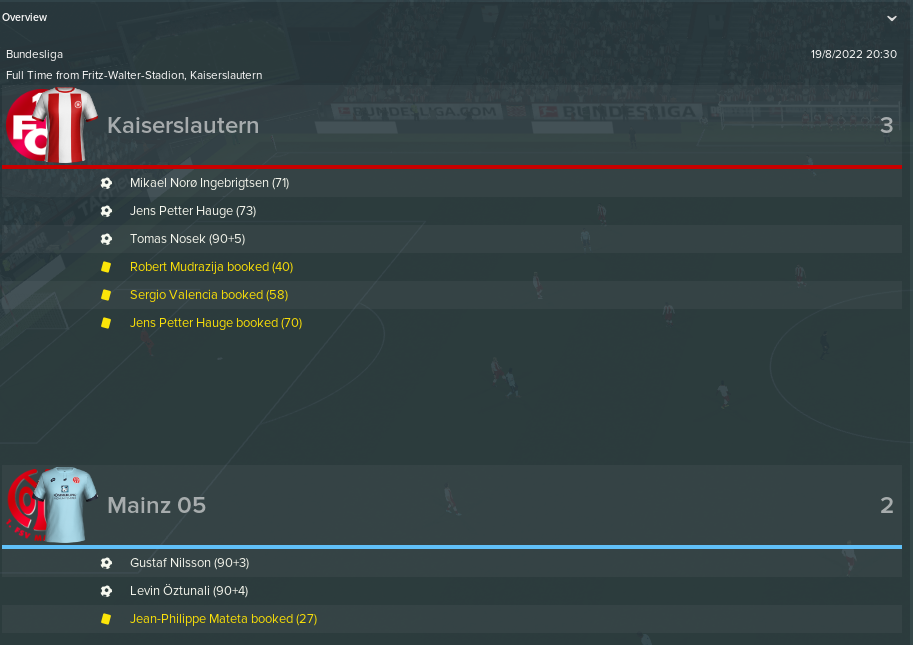 We would control the game throughout but it would take until the 71st minute before we broke the deadlock, Ingebrigtsen, just off the bench and making his club debut after being injured in pre-season would finally be the man to make our hard work count, and his countryman would double our lead two minutes later. But we would be caught on the break twice in stoppage time to see the scores level. I was disconsolate but Tomas Nosek had other ideas. As he would score this piledriver straight from the restart to ensure all three points went our way.
We would round out the month with a comfortable 3-0 defeat away to Bayern but we cannot be disheartened by that as they are a level or three above us still at this stage. All in all, it has been an absolutely fantastic start to the month and we currently occupy second in the table.
September

September was more of a difficult month for us with a couple of really tough away fixtures to contend but we would start the month in fantastic fashion. Tomas Nosek scoring another brace to extend his goal tally to six goals in five games. Giving us all three points against a very strong BMG side.
Like Munich, playing Leverkusen away was a bit too much for us and we would lose 3-1 with Ingebrigtsen scoring a late consolation goal, once again it's not one to fret over too much.
Hannover was a different story though and it was a game we were very unfortunate to walk away from without all three points. We would find ourselves 1-0 down within the first 15 minutes but would respond well, Nosek scoring yet again, before a second goal being added by Ingebrigtsen, took us into the second half 2-1 up. We would continue to be dominant throughout, creating clear cut chances, and having more possession, but would get hit on the counter twice to leave empty-handed. It's quite incredible but even after being so close to a relegation playoff this year. I'm genuinely unhappy that we were unable to win.
October
October was set to be an action-packed month, with the World Cup due to take place in November and December the games would come thick and fast and October would be key in determining whether we would continue our early strong performance, or fall away. As is life in the Bundesliga things are never easy and next up was a home game against Dortmund.

Incredible. Quite easily the biggest victory of the save so far. Despite going behind from a set piece we would batter Dortmund and limit them to very little. That man Biada would restore parity before half time before Ingebrigtsen would continue his quite incredible scoring run in stoppage time to see us run away with all three points. Despite having more shots on target, creating clear cut chances to their none, having 60% possession and a higher pass completion percentage. Their manager believes we were lucky to beat them.
Sour grapes if you ask me. I think he knows that I turned down the chance to manage Dortmund in the summer and he can't deal with the fact that he was their second choice.

We would win again, this time on the road against Hamburg, Ingebrigtsen amongst the goals yet again making it his 4th goal in as many games, Joe Willock ensuring the three points late on.
We would then hit another sticky patch, Succumbing to Schalke and Wolfsburg, conceding 5 goals without reply before a goalless draw away to Stuttgart. I can't determine what went wrong here, perhaps just better teams winning as they were expected to, the media did think we were the second worst team in the league after all.
Luckily for us, a cup game would follow, again to lower league opposition as we would be reunited with Bochum following last years relegation, and our star men Ingebrigtsen and Nosek would see us on our way.
We would round out the first section of league games with a game against FC Koln and it would be our strongest performance of the season to date. You know who would be amongst the goals yet again, alongside first goals for Kamara and Lucky to see things out in style.
As we break for the World Cup the league table looks as follows.

Sitting in joint third place and 11 points clear of the relegation places things were going absolutely superbly for us this time around. I'm a little gutted that the world cup has had to come and I can only hope that it does not affect our momentum as we move into the second stage of the season.
Ingebrigtsen and Nosek have been absolutely revolutionary for us so far and if I can keep both of them fit who knows where things could go for the rest of the season. I'm not taking anything for granted though as I know things could take a turn very quickly.
On another promising note, fresh off the heels of facilities upgrades, the board have once again agreed to give me more funding as I set out to improve the club. It really is beginning to look like we are a club on the rise.
Next time we will see if I can continue what has been a superb season so far.
The ROK